When enterprises need to perform better against their competitors and truly assess their capabilities and opportunities, oftentimes they turn to business intelligence solutions to help them grab that advantage. In the information age we live in, businesses cannot afford to skip investing in business intelligence solutions as data is the new king. Without systems in place to help with organizing and processing data, and then leveraging those business insights to stay competitive, businesses will not be profitable for long. So, what exactly are business intelligence solutions and why do we need them?
What is Business Intelligence?
BI solutions are essentially the technologies and strategies that enterprises use to collect and analyze all kinds of business information and derive key insights to make profitable business decisions. These technologies deliver current, historical, and future forecasts for business operations to help enterprises better plan for future growth and mitigate risks inherent in the business cycle. Some common functions of BI technologies include data mining, prescriptive analytics, business performance management, analytics, data warehousing, benchmarking, data predictive analytics, and reporting.
Business intelligence technologies can work with massive amounts of unstructured and structured data to help identify, isolate, develop, and create strategic business opportunities that would otherwise not exist. These technologies have been developed over time to deliver easy interpretations of big data for consumer behaviour, purchase histories, business operations, etc. Businesses looking for long term stability and a competitive advantage work to identify new opportunities and implement effective strategies based on insights gleaned from the data.
Why Are BI Solutions Important?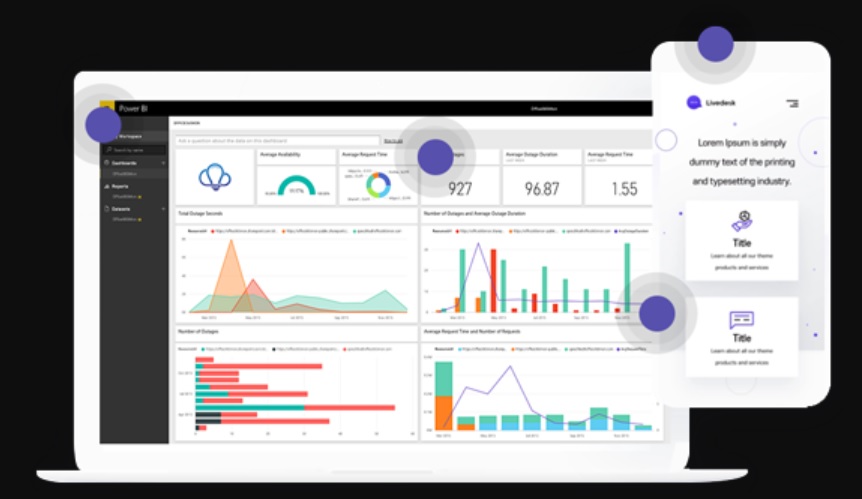 Business intelligence solutions are important because they enable enterprises to make strategic and operational business decisions supported by raw data. Gone are the days when a business hypothesis like is this marketing initiative driving greater conversions as good as a guess or a hunch. As technology has advanced, so has our ability to measure key metrics from conversions to bounce rates. As more and more data is collected, BI solutions process and analyze this data to deliver key insights that just a few years ago would not have been possible.
Because there is data to support every business function, it has gotten easier for decision makers to make well-informed, data backed decisions without any guesswork involved. Decisions that need to be made can range from basic operating decisions like pricing or product positioning to strategic decisions like achieving targeted growth goals. BI solutions are most effective when they combine data retrieved from the market with data collected within the business, whether that be operations or financial data.
When aggregated, internal and external data can be synthesized to provide a complete picture of where the business stands, which generates 'business intelligence' in some sense. This broad, comprehensive view of the market, industry, and business as a whole could not be developed if it were derived from a single data set. That is why business intelligence solutions are important. These tools empower organizations to gain strategic insight into new markets and even assess the suitability of products and services for diverse market segments. Moreover, they help businesses evaluate the total impact of marketing efforts so that key real-time decisions can be made to further those efforts or try something different.
Business intelligence solutions use both unstructured and structured data. Unstructured data contains large volumes of information required for in-depth analysis and decision making while structured data is easy to search. Because of how difficult it is to search, find, and evaluate unstructured data without statistical models, businesses may not rely on these resources. If these resources are not harnessed when making critical business decisions that influence a task, decision, or product, poorly informed decision making will inevitably take over. The best way to ensure that high-quality, well-informed decisions are being made is to outsource business intelligence solutions to the experts. By outsourcing, all sources of data and key information are being factored into every decision that will impact an enterprise, leading to better business performance and profitability.
 In Demand Business Intelligence (BI) Services
There are a host of BI services that enterprises can choose to outsource to benefit from improved profitability and to outmanoeuvre their competition. Some of these services include master data management, data integration, content analytics, data warehousing, and data visualizations. Let's explore just a few of these services to gain a better understanding of the entire range of services that business intelligence solutions can cover.
Business Performance Management
Outsourcing experts can help you better define your business strategy with up-to-date business information so that all decisions made are carefully aligned with the long-term vision for that project. They can also streamline your financial processes so that less resources are wasted and all redundancies are eliminated as a result. Outsourcing can also improve your workforce productivity as less time is wasted on tasks that have been identified as less critical in nature. Finally, business performance management can enhance your profitability. This can be achieved by identifying operational costs and overheads that can be reduced in the short term to help you maintain greater profits.
Data Mining
Data mining is the process of unearthing patterns in large data sets. Raw data from business transactions hold a wealth of information that can be used to better understand customer behaviour in a meaningful way. Data mining tools can be used to penetrate deep into your business processes to learn the customer trends and patterns that impact your business on a day to day basis. These patterns can be further analyzed to develop strategies to expand your business when you understand why your customers behave a certain way. Data mining can help you better plan production, optimize costs, and understand your marketing efforts in a whole new light so that profitability is better achieved long term.
Ad Hoc Reporting
In today's fast-paced world, businesses need help in establishing a competitive edge and boosting their revenues. Data visualization can come in useful in this regard as it helps key decision makers identify and recognize patterns that will boost profits quickly through a visual aid. Business intelligence solutions like Power BI have ad hoc reporting in-built to assist in decision-making. Reporting helps businesses make critical decisions with rich Power BI visualizations to help support their understanding of the problem. It focuses on visualizing data through tables, charts, graphs, and other visual forms. The idea is to graphically represent data in a form that is easily comprehensible for end users. A Power BI dashboard can also be used to tell a story. They can be used to monitor a business and see all your most critical metrics at a glance so that decision-making can be accelerated.
Benefits of Outsourcing Business Intelligence(BI) Services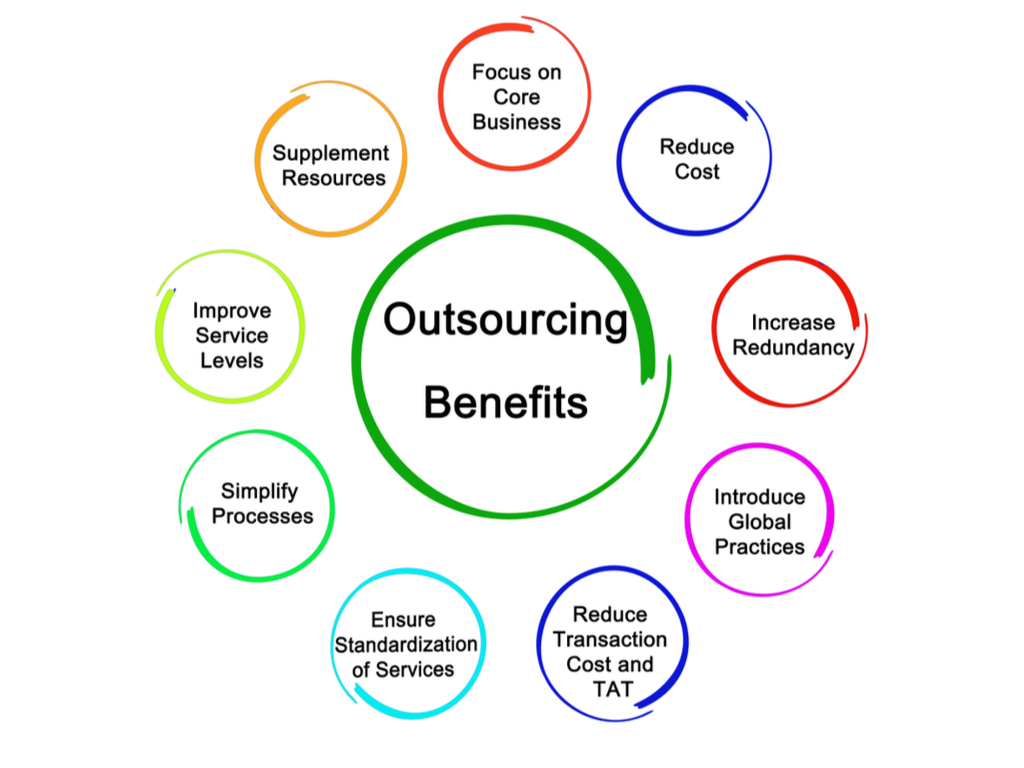 Access to Large Pool of Top IT Talents
One of the greatest challenges faced by companies is the shortage of skilled IT talent when trying to implement certain data analytics initiatives. Hiring a team of professionals consisting of skilled data scientists, machine learning engineers, and data analysts in the local market can be quite the challenge. Sourcing these professionals is always expensive and time-consuming. Outsourcing business intelligence solutions to offshore service providers, however, can get you access to top talent in the field with the right kind of expertise and skills very effectively. This talent may even have the required project management skills that are needed in your industry to get your projects off the ground given their breadth of experience.
Easy Access to Modern Infrastructure
As the volume of data keeps growing at the rate that it currently does, businesses face huge challenges in effectively capturing and managing huge volumes of business data. Traditional data centers no longer make the cut given the amount of maintenance and upkeep physical servers can require. Businesses then look to managing their data estates with cloud-computing platforms like Microsoft Azure, AWS (Amazon Web Services), and Google Cloud Platform. By outsourcing your requirements to offshore partners, you can gain access to modern IT infrastructure so that you can move from traditional data centers to a modern cloud environment. Outsourcing BI solutions allows you to use cutting-edge technologies, tools, and infrastructure without needing to invest millions of dollars in bringing them in-house.
Wealth of Industry Knowledge
It is important to pick an outsourcing partner with a wealth of industry knowledge in your domain. A partner with deep domain expertise can offer a host of competitive advantages since they are already very familiar with the unique requirements of your industry. For example, outsourcing health data analytics can provide healthcare organizations with sharper market insights, better risk management, and help them improve patient care and clinical decision-making overall. These healthcare organizations will also need data analytics to improve their medical inventory management and help them optimize drug pricing. Outsourcing partners that already have deep industry knowledge will help you evaluate which areas of your business will need data analytics to boost performance, not the other way around. That is, you will not need to come up with data analytics initiatives to feed your outsourcing partner. This is because other businesses would have already sought help from your outsourcing partner to meet some basic requirements that are standard for that industry.
Staying Ahead of the Curve
Data analytics has evolved past just business intelligence and data management. In fact, advanced analytics is now a key part of enterprises to help them keep up with the market as well as stay ahead of their competition. Outsourcing business intelligence solutions can help organizations keep up with constantly evolving innovations and technologies while ensuring that costs stay within budget. Offshore vendors have access to a range of advanced technologies that you may not have even been considering. When cloud-based tools and cloud computing first entered the market, not many enterprises were contemplating investing in that technology.
However, outsourcing partners knew it would just be a matter of time before investing in cloud technologies would be essential to functioning well as an enterprise in this era. You can now migrate from legacy on-premises applications to cloud-based tools without batting an eye as upgrading to this technology will not cost you a cent extra.
Improved Compliance
Business data is being generated at such an enormous rate on a daily basis and that pace is only accelerating with the evolution of the Internet of Things (IoT). Businesses need to efficiently manage and analyze all this data while meeting a host of regulations in the process. For example, a systematic way to collect, store, and share business data will be required when the General Data Protection Regulation goes into effect in the near future. Businesses will seek an external outsourcing partner when personally identifiable information needs to be more easily audited. When you outsource your business intelligence solutions and data analytics requirements to offshore vendors, you are ensuring that your data meets compliance requirements no matter what. This is because outsourcing service providers always meet regulatory and compliance requirements as that is the business that they are in. If your business needs help with meeting compliance requirements or staying on top of constantly changing regulatory requirements, outsourcing can help.
Outsourcing BI solutions can benefit your business in a host of ways. When offshore vendors provide business intelligence services, you can be assured that cost savings is not the only advantage you will gain. You will also gain access to a wealth of knowledge about the industry you are in. Your outsourcing service provider will help you establish business metrics for your industry as they have enough experience in the field to separate the essential from the non-essential metrics out there. They will fundamentally take care of end-to-end business intelligence services for your organization so that all your bases are covered.
Moreover, you will also benefit from improved compliance as outsourcing partners often have invested in this area to keep their clients ahead of the curve. If hiring an in-house team of IT specialists is not within your budget, outsourcing can be an easy fix. You get access to a large pool of top tech talent that other companies would not have access to, which will help your profitability. Finally, outsourcing BI solutions will give you access to the most cutting-edge infrastructure and technologies in the market to give you a competitive edge. If you are looking to turn over your business operations to the experts in the industry, trust offshore vendors to handle your BI requirements.
Who We Are and Why Our Expertise Matters?
This article is brought to you by FlatworldEDGE, an IT solutions provider specializing in infrastructure management, mobile app development, software testing services, and custom software development. With over 10 years of experience in the field, we know how to help our clients develop new business opportunities and drive performance. We specialize in generating business intelligence solutions that will help our clients better manage and analyze volumes of data to drive better decision-making and profitability. Our clients trust us to help them cut costs, access the best tech talent out there, and stay ahead of the curve competitively.