The way people work is changing fast, and to keep up with pacey advancements in the industry, businesses are turning to the cloud. The end-to-end practice of HR professionals has immensely benefited from tech-driven workflows, automation, and the impact of AI on the way businesses operate. Rather than considering the Great Resignation as a stopping point, many HR leaders are leveraging cloud HR software to strategically organize HR functions and find better ways to recruit, engage and retain their talent pool.
What is Cloud HR and Why is it a Big Deal in 2023?
Cloud HR, or cloud-based HR software, is a suite of software applications that are hosted on the cloud and accessed via web applications, mobile or browsers. Cloud HR software can be used to manage a variety of HR tasks, such as:
Recruiting and onboarding
Payroll
Benefits administration
Time and attendance tracking
Performance management
Training and development
Compliance
Employee engagement
HR mobility solutions
According to a Gartner HR Priorities Report 2023 , 43% of HR leaders surveyed stated that they do not have an explicit future-of-work strategy, and 42% of the respondents are keen on implementing efficient ways to position employees for the future of work. Cloud transformation has introduced new ways to tackle this gap with advanced HR applications.
Doing more with less, HR professionals can augment their HR strategies by focusing on key areas of the employee experience with increased visibility into the lifecycle of their peers. By navigating to a fully cloud-powered environment to manage HR tasks, deploying employee portals, and analyzing the performance of the organization, HR leaders have more insight into the way people work, their expectations, and aspirations with the real-time feedback of cloud-based systems.
How Cloud Transformation Impacts HR Activity?
Cloud transformation empowers HR leaders with intuitive software solutions to automate the most time-consuming and people-centric human resources functions. Cloud HR software allows employees to gain control over their workplace experiences and better indulge in the unique vision of their employers, with increased transparency, autonomy, and flexibility.
Embarking on a cloud transformation journey offers several benefits over traditional, on-premises HR software practices, including:
Cost savings

Cloud HR software is typically less expensive than on-premises software or hiring separate teams to manage a dispersed or vast workforce. You don't need to purchase and maintain hardware or software licenses periodically anymore.

Scalability

Cloud HR software is easily scaled up or down as needed, depending on the nature of your workforce and the needs of your people.

Accessibility

Using mobility solutions and employee portals, cloud HR software can be accessed from anywhere, giving HR professionals the flexibility of working from anywhere.

Security

Using cloud HR software is more secure than most on-premises software since it's hosted in secure data centers and backed up regularly, also accessed via secure cloud-native apps with stringent permission management and governance.

Innovation

Cloud transformation is the process of constantly innovating and adding new features, which entails that users always have access to the latest and greatest tools to perform complex tasks easily, automate redundancies and manage end-to-end user experiences.
What Are the Benefits Observed by HR Leveraging Cloud to Digitize Their Business?
If you are looking for a cost-effective, scalable, and secure way to manage your HR department, cloud HR software is a great option. Leveraging the power of cloud-based AI and native applications, HR professionals can streamline various tasks like payroll, employee onboarding, performance reviews, employee experience management, and corporate branding and deploy more efficient retention strategies among other use cases.
For businesses, the inclusion of a cloud transformation strategy to implore the benefits of cloud-based HR has been ever-in-demand. Here are 8 ways cloud HR is transforming the way HR professionals work to redefine employee experiences.
Less paperwork and more flexibility

Human Resources professionals can focus on more important duties by using cloud-based HR tools to automate and expedite HR processes. Employees and HR professionals have the freedom to work from home, and securely on their preferred devices, or while on the go thanks to the accessibility of these cloud-based tools.

Real-time performance analytics

Real-time insights into employee performance can be provided via cloud-based HR solutions, which can assist managers in making better choices about employee development and compensation. Furthermore, cloud HR software can monitor employee satisfaction and engagement, which may be helpful in spotting potential issues early on.

Better employee engagement and retention

By giving employees access to the data and resources they need to execute their jobs well, cloud-based HR software assists to increase employee engagement and retention. Cloud transformation in HR can help to create more personalized employee experiences, which makes employees feel more valued and appreciated.

24/7 access to pay and benefits data

Employees have 24/7 access to their salary and benefit information because of cloud HR software, which can ease stress and boost job satisfaction. HR can save time and money by automating the processing of payroll and benefits with the use of cloud-based tools.

Quick onboarding and deployment

By streamlining the onboarding procedure on a central system, cloud HR software enables new hires to quickly catch up and begin contributing to the business. The process of implementing new HR policies and procedures can be automated with the use of cloud-based apps, ensuring that everyone is on the same page.

Enhanced security of employee data

Cloud HR systems provide a variety of security features, such as access controls, encryption, and auditing, which can help to protect employee data from unauthorized access.

Access to learning and development tools

Employees have access to a variety of learning and development resources, including online courses, webinars, and e-books, with the help of cloud-based HR services. Employees who maintain their knowledge and skill sets are more likely to be productive and successful in their professions.

Empowering strategy-driven HR decisions

HR practitioners can use feedback, data, and insights from cloud-based HR solutions to make more informed decisions about hiring, developing, and retaining staff members. As a result, HR may be able to play a more strategic role inside the company and contribute to its success in its entirety.
Leverage Cloud HR Functionalities for Fulfilling Employee Experiences
Recent findings from research pioneers and technology service providers about the adoption of oud-powered apps to manage various enterprise activities by doing more with less, show major advocacy for more advanced cloud deployments this year. According to Google Cloud research conducted in 2022, 75% of businesses already have plans to invest in new digital platforms to encourage the exchange of innovative ideas. Other significant areas include spending more money on innovation training (64%), changing hiring practices to include more diverse ideas and methods (53%), and improving data collection and analysis procedures (42%).
Meanwhile, the Enterprise Strategy Group report from 2023 indicates that for new applications, 27% of organizations are examining both public cloud services and on-premises resources, while 26% are prioritizing on-premises deployment but are also considering strong arguments for cloud deployment.
Cloud transformation provides several benefits for business production and employee performance. Cloud-based HR tools can make your HR department more effective, efficient, and strategic by automating and streamlining operations, enhancing information access, and offering real-time insights.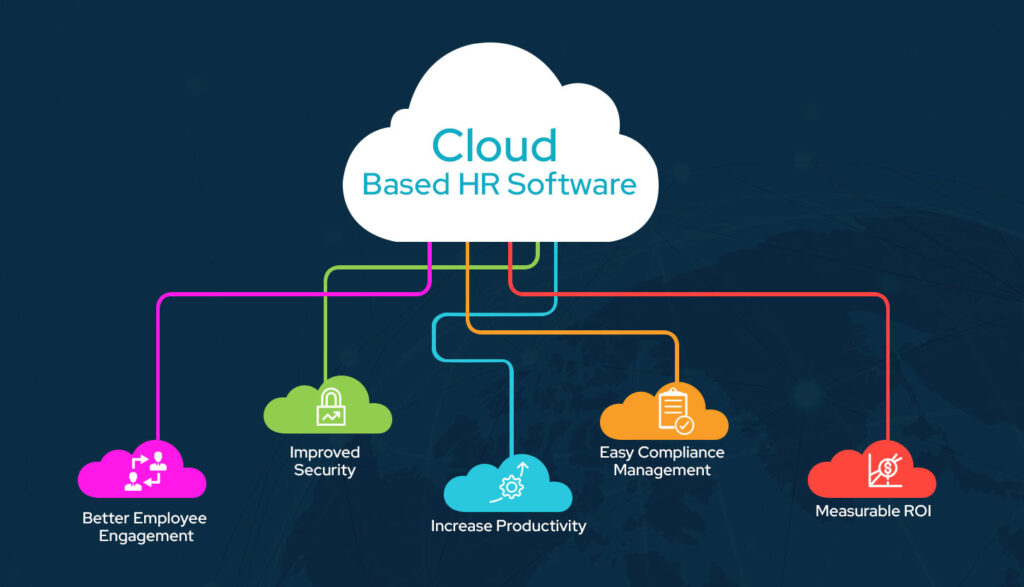 If you would like to know more about how we can help you transform the way you work and foster fulfilling employee experiences using the cloud, get in touch with our HR transformation experts right away.
At Flatworld EDGE, we guide businesses on their digitization journey offering end-to-end support. Our team and technology expertise has served businesses across the world in adopting cutting-edge capabilities of AI & ML while deploying industrious cloud solutions.