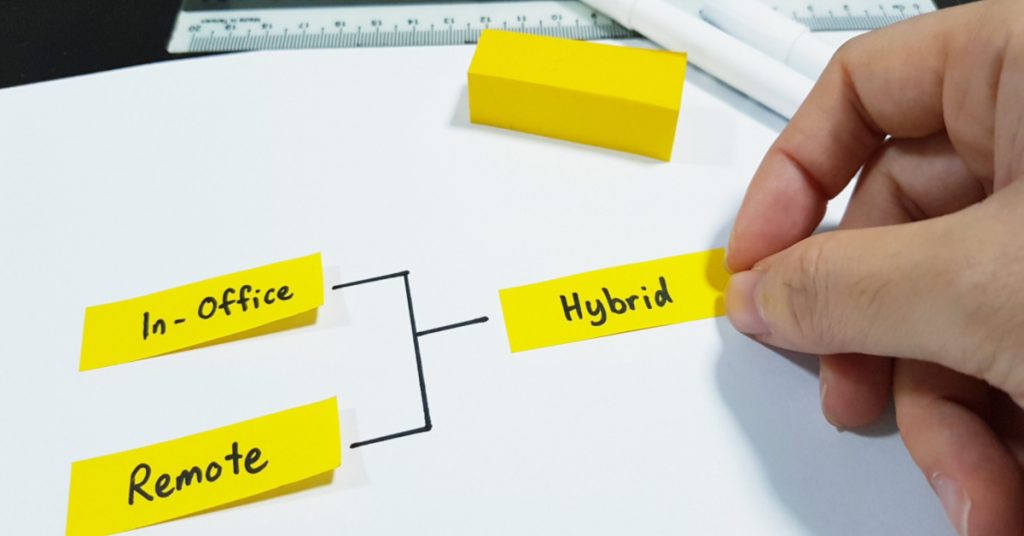 The hybrid work model is here to stay. The existing work environment is undergoing massive changes to embrace the new work model. However, organizations are wary of communication, collaboration, and security taking a hit in a hybrid work environment. They have valid concerns about the inability to conduct in-person meetings that is crucial to foster inter-team collaboration. Security can be a major headache when you have employees handling confidential client data from a remote location.
As an organization, you need a robust digital platform that binds the communication, collaboration, security, and other sides of your operation into a single entity. This facilitates more flexibility and operational efficiency even when your employees work in a hybrid work environment.
Microsoft office 365 is the one-stop solution to address all the concerns highlighted above. It is currently the biggest enabler of the hybrid work model. Microsoft has made further upgrades to its Office 365 technology suite to make operations more collaborative, seamless, and secure in a hybrid environment. Organizations are exhibiting an increased reliance on Microsoft office 365 migration services to leverage the new features.
In this article, we will explore how the new features of Office 365 suite will attune your operations to the hybrid work model.
Make Meetings an Immersive Experience with Microsoft Office 365 Tools
Offline meetings held over a communication platform can be ridden with distractions. The surrounding environment, noisy feedback, and the lack of a physical presence are some of the factors that get in the way of fulfilling the meeting agenda.
Microsoft will introduce newer enhancements to its Teams software to address the issues discussed above. This includes the following:
Automatic switching off your audio when you join a meeting via Teams from your personal device.
Hide your video feedback from participants joining from companion devices and from the front-of-the-room screen.
The Front Row Teams meeting layout shifts the video gallery to the bottom of the screen. This allows attendees to view all the participants at eye level. Just like the way they do in an in-person meeting.
Neat and Yealink are the two touch-enabled display tools that are scheduled to be available for Teams later this year. These devices combine video and audio feedback, compute, and touch display to enhance the collaborative experience in a meeting held in a hybrid work environment.
Cameo enables integrating live video feed into a PowerPoint presentation. You can customize the way you want your video feedback to appear on each slide. PowerPoint's designer feature recommends the best layout option for optimal slide viewing along with the video feedback.
Microsoft Mesh lets you create custom avatars. These avatars mimic your gestures and movements in a live meeting even when you are not physically present in the meeting. This facilitates enhanced engagement between you as the presenter and the attendees.
Enhance Hybrid Workspace Collaboration with Microsoft Office 365 Tools Suite
A well-established hybrid workspace must underpin the culture of collaboration among peers and stakeholders. However, the inability to meet people on a regular basis in a hybrid work model raised concerns about the collaborative culture. Such a culture is essential for cross-team ideation and execution of strategies that are core to business development.
Microsoft has announced a set of new features that are aimed to facilitate collaboration among employees even when they work from remote locations. Some of these features are highlighted below:
The Microsoft Loop app is the newest invention that aims to bring together people with documents to brainstorm ideas and complete workflows in a collaborative fashion. Loop components allow you to create reports, status reports, and voting tables. These features empower you to complete an agenda by collaborating with your peers over emails, meetings, or chats. Loop pages are like blank canvases where you can organize data, links, images, and other components that are relevant to a specific project. Loop workspaces are shared workspaces where your team can collaborate and make efforts to fulfill a shared goal.
Microsoft Whiteboard is much like a digital chalkboard where your employees can jot down their ideas for cross-team knowledge transfer and brainstorming. This application enhances this collaborative experience by providing a range of collaboration cursors, over 50 templates, and acontextual reaction emoticons. It also allows members to access and open existing whiteboards to collaborate with other teams.
The Teams Connect feature facilitates a shared workspace. This workspace allows people working from the office to seamlessly collaborate with others working remotely. A person working on a particular product can organize meetings, share files, use apps, and check work status with another team working from the office. All of this can be done without having to switch work accounts.
The new Inspiration Library feature is available through Microsoft Viva Insights. This feature is a repository of thought leadership articles that are meant for your personal and professional evolution. These articles are sourced from Harvard Business Review, Thrive, and Microsoft. The articles are featured on pages with themes that are specific to wellbeing, culture, resilience, and so on.
Make Your Operations Secure and Compliant in a Hybrid Work Environment with Microsoft Office 365 Tools
In a hybrid work environment, a person operates on the Internet instead of an organizational intranet. This peaks cybersecurity risks. It heightens the chances of your employees failing to comply with your organization's governance rules.
Microsoft has empowered the Office 365 tool suite with new features. These features are meant to enable employees to continue operating in a secured and compliant fashion in the hybrid work environment. Some of the features are enlisted below:
The Office 365 tool has witnessed the addition of more policy controls to increase the sensitivity labelling of data. The new conditional access control policy is one such policy control. This requires users to go through multi-factor authentication to access "top secret" data.
The new Data Access Governance insights help you to have a 360-degree view of the information-sharing activity across Microsoft tools. You can monitor and evaluate sites. This evaluation is done on the basis of sharing types, sensitivity labels set by a site to access from unmanaged systems, and others.
Microsoft Defender for Office 365 is a new security solution that protects your data from phishing attempts, ransomware, and malware. These bugs can be released by URLs, collaboration tools, and emails. The Microsoft Defender for Office 365 gathers signals emitted from your apps. It then analyzes these signals to detect, probe, and remediate any instances of security threats.
The data loss protection feature detects, alerts, and blocks sharing of data that appears risky. This includes sharing of personal information or confidential information to unauthorized users or addresses.
How Do Our Office 365 Migration Services Ease Your Access to the New Office 365 Suite Features?
The functionality of the new Office 365 features is highly dependent on a successful migration to the Microsoft platform. As an industry-experienced office 365 migration solutions provider, we ensure a successful migration to the Microsoft Office 365 platform for you.
We do not commit to a migration plan before we know your operation and infrastructure in and out. Our experts conduct an in-depth analysis of your legacy infrastructure. Based on the analysis we chalk out our Microsoft Office 365 services roadmap for implementation and utilization.
Our experts assist you with the right selection of tools that will make your operations seamless and secure in the hybrid work environment.
For instance, we helped a reputed insurance services firm to migrate from Exchange 13 to Office 365 platform. Security patching, active directory migration, migration of all the pending mailboxes were some of the key requirements of our client who was adjusting to the hybrid work environment. Our Office 365 migration solutions experts configured all the security settings to accommodate newer Microsoft Office 365 security features. We had successfully migrated all the user profiles to the new active directory tenant. Post that, we mapped all the user identities into the new cloud-based Microsoft Office 365 cloud features.
In another instance, we assisted a prominent recruitment company to replace their outdated file servers with Office 365 document and email management solutions. We recommended a migration to Microsoft Office 365 Business Premium. This version comes with the Sharepoint online feature which enabled employees to access emails, documents, and contacts from the company intranet in a secured way.
Who We Are and Why Are We Considered as An Industry Authority?
This article is authored by experts at Flatworld Edge, an eminent Microsoft Office 365 migration services provider. We have assisted our clients to migrate from g suite to office 365, move email to office 365, assisted in moving google g suite to office 365, SharePoint to office 365, and many more. The services that we provide are Office 365 advisory and consulting services, Office 365 licensing and tenant setup, and analytics and insights.