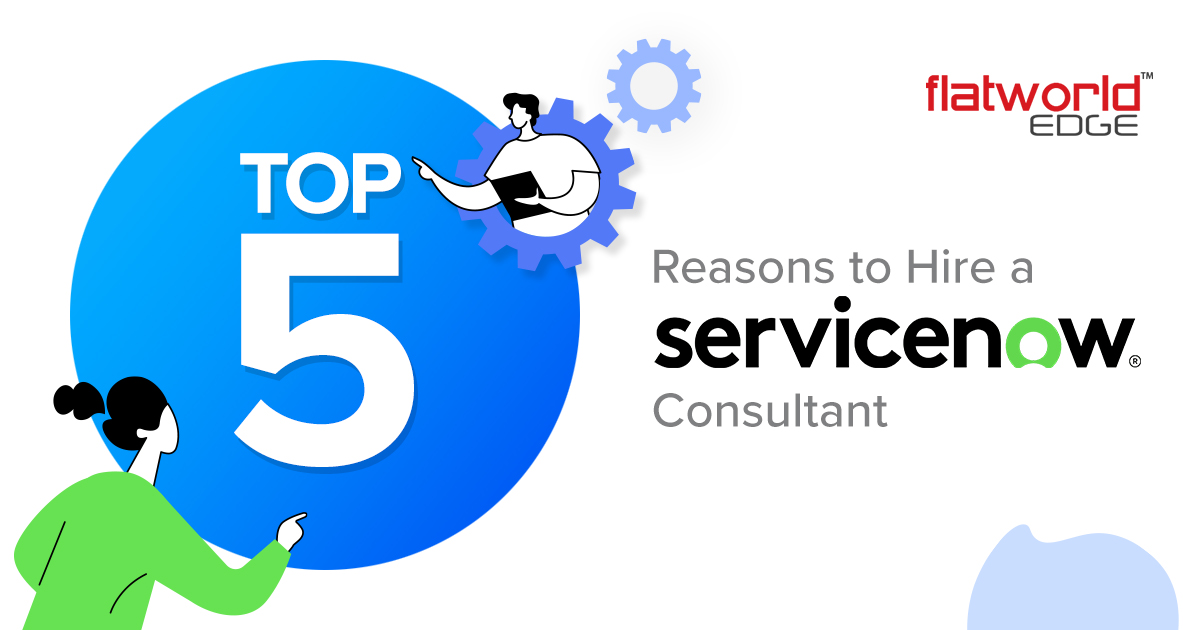 ServiceNow helps companies to speed-up their operations and become more scalable. It achieves this by facilitating activities, processes, and tasks that are a part of day-to-day work life. ServiceNow gives you a robust platform right out of the box. You can start using it with minimal configuration.
It gets rid of the traditional email and spreadsheets that plague the workplace. ServiceNow automates, structures, and defines workflow through a service model. This helps your company streamlining deliveries and processes.
Just like how ServiceNow smoothens your workflow, a ServiceNow consultant can help smoothen the process of adopting the solution. Keep reading to learn why hiring ServiceNow consultants is a good idea.
ServiceNow Consulting Services
You can leverage ServiceNow consulting services to help you with your ServiceNow implementation. The ServiceNow consultant will evaluate your processes and infrastructure to understand your needs and provide solutions to suit.
The ServiceNow consulting service can also educate you about the nuances of the system and help you improve efficiency and growth. There are several models of consultation that you can opt for, including one-time and full-cycle consultation.
Here is a list of 5 reasons why you should hire a ServiceNow consultant instead of trying to implement it yourself: 
1.A ServiceNow Consultant Know What's Best for You
With the years of experience an average ServiceNow consultant has gained, they can assess your needs and provide you with the best solution. The consultant will be able to analyze your business processes, the people, and the technology through a comprehensive approach that others cannot match. This process requires an experienced professional with diverse knowledge about ServiceNow.
A ServiceNow consultant will also help you make the right decisions regarding ServiceNow solutions. They can develop a clear plan for implementation and draw up a budget to make it smooth.
2.A ServiceNow Consultant Knows the ServiceNow Platform
A ServiceNow consultant knows every capability, advantage, and limitation of the platform in and out. In addition, they'll also be able to judge if a feature or solution will help solve the issues you are having. When implementing a new solution in your company, you will want someone knowledgeable, reducing complications.
With ServiceNow, you can personalize your solution. In a platform like this, only someone who knows his way around will be able to help you get the best out of it. You can leverage the ServiceNow consultant's expertise and make the best of the implementation for your business.
3.A ServiceNow Consultant Can Provide Mentorship And Training
In addition to implementing the platform, ServiceNow consulting services or consultants can help train your employees to use the platform. They can help your employees use the platform efficiently. Most ServiceNow consultants offer training as a part of the contract too.
With the help of a ServiceNow consultant, your team can master the platform through hands-on experience. With a well-trained team to use a platform, you will get better productivity and return on investment, helping you grow and transform faster.
4.ServiceNow Consulting Services Will Help You Save Time and Money
If you choose not to hire a ServiceNow consultant and try to implement ServiceNow yourself, you will have to learn from your mistakes. Doing so can be time-consuming and also cost a great deal of money. In addition, you will have to spend time researching and strategizing the implementation process.
Instead, a ServiceNow consultant can take on the workload and help you save time and money. A consultant will know your company's needs and not spend much time strategizing the process. Also, a ServiceNow consultant can help you personalize the ServiceNow implementation to suit your needs so that you don't have to waste money on features you do not need.
5.ServiceNow Consulting Will Help you Stay Focused On Your Business
When you hire a ServiceNow consultant or consulting service to implement the platform in your company, you can focus on your core business. Otherwise, you will be breaking your head, spending precious resources and time trying to figure out how you can implement ServiceNow in your workplace.
Hiring a consultant will help you fast-track the implementation process too. You can implement the platform faster and reap its benefits sooner. Consultants can also help you avoid delays by taking preventive steps against common issues.
Why Choose Flatworld Edge as Your ServiceNow Consulting Service Providers
Our consulting services  help you with all your ServiceNow needs. We assist you in identifying, planning, and implementing the best ServiceNow implementation. We also provide you with continuous inputs regarding improvements and upgrades in the future.
 As a premier ServiceNow consulting company, our offerings include:
Implementation Support
Advisory services
Optimization Support
Remote administration
We provide a cost-effective solution, albeit any hidden costs.. Our process is structured and streamlined. It provides flexibility and room for adaptation. Also, we have a great track record of turnaround. We can come up with on-time solutions regardless of the number of customizations required.
We are also capable of designing and integrating custom applications that reduce friction in your workflow. With our ServiceNow consulting services, we can help you break down organizational silos, increasing accessibility to all applications and data. It will help make your business agile, increase productivity, and deliver high-quality results.
Who We Are and What Makes Us an Expert
 Flatworld Edge is a specialized ServiceNow technical consultant. We offer a bouquet of services that assist you in meeting business specific ServiceNow requirements. Our team comprises certified experts with experience building roadmaps, designing workflow, and aligning the two to provide you with proper outcomes.