If data takes the centerstage in your business ecosystem, if you are in full acknowledgement of the fact that harnessing data in your business can drive your landmark decisions for purposes like better customer recession, improved project value projection, sales strategies, contingency measures among others, you must already be familiar with the capabilities of power BI services. Microsoft enterprise's brainchild Power BI assist you for a better data visualization and analysis by means of a user-friendly and interactive interface. But do you know that power BI capabilities have more that can bring more business value for you than just creating interactive data dashboards.
Why Power BI has Become Indispensable?
Businesses sectors witness the generation of data in massive amount which are largely being capitalized by experts using analytic tools to derive meaningful insights. However, among the sources, series of disparate, ambiguous sets of data makes the task of analyzing them difficult. To bring all the related datasets on a single platform among the hoards of generated data is also a cumbersome task. These challenges are being effectively addressed by power BI visualizations which involves collating all the related datasets into coherent and compelling charts and graphs that feature in an interactive dashboard.
Here's a closer look at how power BI services have become indispensable for your business needle to move at the right direction:
Power BI dashboard and Reports:
These are the core capabilities of Microsoft's power BI services. These features allow users to design dashboards that can be customized to unique business requirements. These dashboards can be created either on an on-premises basis or on cloud that allows single-view and allow firms for an enterprise-wide tracking of data that is most relevant to them at each moment. This is key to minimizing the time taken by executives to forage to find the relevant data. Users can develop reusable data models to enable consistent report and data analysis by using SQL Server analysis services for on-premises and Azure analysis services for the cloud.
Q&A capabilities:
Its Q&A capabilities allow analyzing data by shooting queries in natural language and get answers in the form of coherent graphs and charts. These capabilities are intuitive as it provides answers based on the data-type. For instance, if the data query pertains to a place, the answer will be displayed in the form of a map.
Data Security:
Random instances of data security breach continue being the Achilles' heel in the data analytics industry. Pledging to the aim of safeguarding data, the power BI architecture consists of two places to store and manage data. The Azure BLOB storage receives the data uploaded by users and all the metadata is directed towards the Azure SQL Database. A user has to authenticate their identity every time they make an attempt to access resources.
Ease of Access:
It allows an ease of access to any application or any kind of data source irrespective of the fact that they are stored on-premises or in the cloud. This saves significant time that helps in hastening the decision-making process for enterprises.
Requirement of limited engineering resource:
The utilization of power BI services requires limited engineering resources which saves investment on manpower for an enterprise to a significant extent.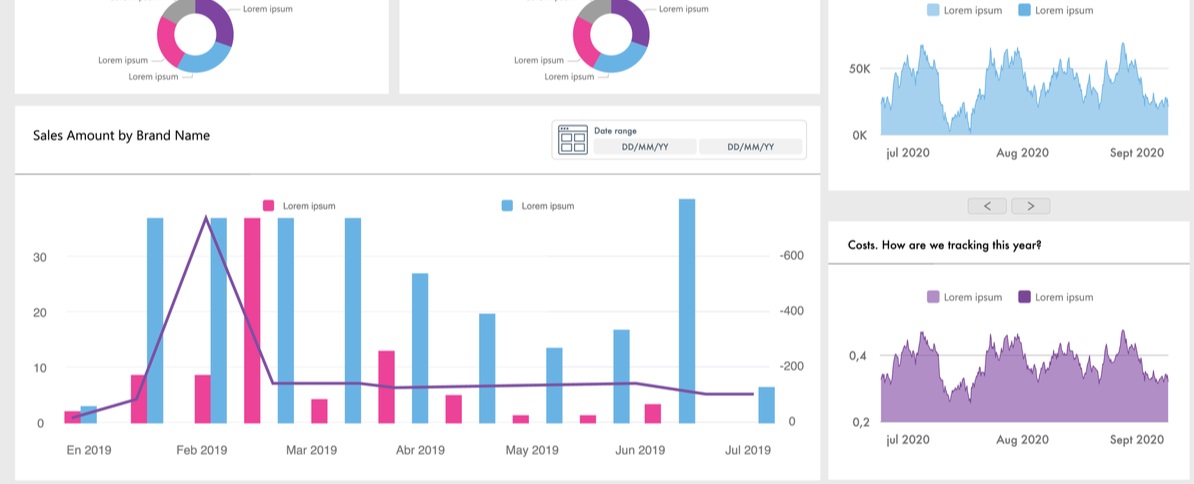 Power BI Services in Industries: Use Cases
Power BI in the Manufacturing Industry-
Digital twin technology is the new mantra in the manufacturing industry. It involves creating digital replicas of various manufacturing stages of an equipment to identify any shortcomings in the design or functionality before the product starts being physically assembled. The replicas are fitted with sensors which send data in real-time that gives an idea of how the equipment will work in a real-world environment and in different settings. Analysts can visualize this data in a coherent shape on the power BI dashboards that helps them in taking critical business decisions during the manufacturing process.
A majority of healthcare institutions are using power BI and the latest cloud technologies-empowered agile data analytics to deduce granular insights from data generated from the multiple layers of their operations. A power BI dashboard can assist an analyst track the level of adherence of a hospital to its quality KPIs. For instance, data reporting from a physician dashboard will inform on the number of patients visiting a particular physician, the level of patient satisfaction, and the number of new visitors. These are considered as some of the key KPIs of a medical caregiver. Similarly, data reporting from a hospital dashboard will inform on the number of admissions, wait time in the emergency ward, income made in a quarter, and departmental expenses. These information are critical for the authority to make decisions to promote cost and operational efficiency.
Power BI in the Automotive Industry–
Power BI brings multifarious opportunities for stakeholders that are extremely relevant especially in the current turbulent times. An enterprise can make use of the unused transactional legacy data derived from their clients to redesign its inventory, procurement, and sales strategies. Custom visualization abilities of power BI services can be leveraged to create reports of early versions of sales to identify areas of improvement and prospective areas of profitability. This will provide necessary directions towards revamping an enterprise's inventory and sales strategies aligning with the previous and past sales and inventory management trends. In general, data-minded automotive enterprises use interactive power BI dashboards to track statistics related to automobile sales, service efficiency, revenue, and spare parts sales. These insights help them to optimize their long-term and short-term business strategies in a proactive manner.
Power BI in the BFSI industry–
Power BI banking dashboards collate and visually represent all the KPIs, tracking of which is critical in identifying the area of improvement for different departments. For instance, the customer contact center power BI dashboards display reports on call volumes, customer satisfaction rate for each call, customer demography, time of calls made, and shift schedules. The power BI mobile and internet Banking dashboards report on the volume and kinds of transactions made by each customer online.
What More Do Power BI Services Have in Store Apart from the Established Use Cases?
Power BI services are finding its relevance across a gamut of small, medium, as well as established industries as digital revolution has made inroads in the operational ecosystem of enterprises. This has motivated stakeholders to dive into the data lakes and fish out insights by means of robust analytics tools to overhaul their operations. However, there is more to analytic tools like a power BI dashboard that just creating a visual representation of data in a single platform and analyse them to derive its meaning. Here's a look at some of the not-very-known functionalities of Power BI:
Scales up to services you are familiar with– Despite being fed with pre-set report and visualization templates by its creator, power BI can integrate to a range of cloud services and applications such as Adobe Marketing Cloud, Google Analytics, Salesforce, among others that you intend to use for your business. Data from these services can be processed, collated, and reports on the same can be created on a custom-made power BI dashboard. This can be set on an on-premises basis to allow you the liberty to access and analyze datasets on your own secure servers. It assists you in tallying the number of visitors on your website to the number of actual sales or track the promotions that generated quality leads. You have the liberty to create reports based on the templates that you use as well as direct power BI visualizations formats, and regulate the amount of access that should be given to each resource for all the data sources, dashboards, and reports to facilitate maximum data security and your control of the information.
Storytelling Capabilities of your Data– Usage of timelines to tell stories in a chronological way is not an uncommon practice. The same practice applies in the practice of representation of data in such a way that it narrates information that has been changing over time. To achieve, the creators of power BI took a long leap from the linear design of timeline created in the late 18th century by Joseph Priestley to visualization tools that supports 14 design frames characterized by layout, scale, and representation. It allows you to enlist timelines and dates in a linear fashion, or in circles, grids, or any other custom designs. You can feature timeline that depicts events, their durations, or choose logarithmic or relative scales. You can pick the best layout, scale, and design for the best representation of your facts and figures and the capabilities of power BI will process the same to create a timeline out of it. This representation can be used to tell the story of the evolution of your business, how it picked up its pace, and what are the future prospects.
Excelling on what-if Scenarios on Dashboards– You can draw comparisons among different scenarios on power BI dashboards by simply bringing in a command button to display the changes. For a figure, lets' say, the sales, using the new button for parameter embedded in power BI desktop will allow adding a calculated measure by adding parameters that tend to change as per your what-if scenarios. Setting a minimum and maximum data types and increases are some of the parameters added for this figure. This helps in creating a specific measure that can be set by drawing reference from other specific measures. In case of promotions as a figure, a what-if parameter for the actual count of customers responding to a certain promotion can be plugged into a formula created by you to project the quantity of customer tickets you can experience.
Power BI for IT Administration– Data visualization by power BI is an answer to a better controlling and administration of IT assets in an organization. The template of Power BI solution to store Azure Activity Logs uses Stream Analytics and an Azure SQL database to collect logs and represent them visually by using pre-built Power BI Desktop reports. This will help you take a closer look at the level of utilization and some of the emerging problems during usage. It also stores a set of pre-built Power BI reports to support the Intune Data Warehouse. It displays details of all the IT devices such as their configurations and compliance status. Among its other features, a solution template for System Center Configuration Manager fitted with a dashboard displays the functionality and health of client's server, indicates the quality of malware protection levels, software inventory and devices that are not updated. There are a range of other templates that can be used to design your personalized dashboards and reports for an array of other IT tools, provided that you manage to log the data into an Azure SQL database or an SQL Server.
Multiple Data Display within a Single Tile– Users tend to have different asks when it comes to the quantity of data that they want to glance upon on a power BI dashboard. While analysts and managers for certain domain have specific set of information to look at, executives will have tons of information to visualize as they typically have to deal with more than 30 metrics for business domains spread across multiple regions. Power BI services make the task easier for executives by presenting a glance of the actual figures in a simple view rather than complex visualizations. This helps them to find information readily during presentations without have to forage in a complex set of graphs and charts.
Who are We and Why are We a Leading Enterprise?
This article is authored by experts at FlatworldEDGE. We are a leading IT infrastructure services and solutions provider with over 10 years of experience in the industry. We leverage our thorough understanding of an economic usage and optimization of technologies to cater to global clients across industries. Our bespoke services help our clients address their specific business needs and, in the process, strike the right momentum in their business transformation and identify newer opportunities. Our decade-long expertise in business intelligence solutions and analytics allows clients to capitalize on the endless advantages of cloud-based solutions, artificial intelligence, and machine intelligence to tap into new opportunities and boost performance. Our Power BI services team has the history of successful partnership with enterprises to address critical BI challenges, allowing them the leeway to focus on their core business objectives.