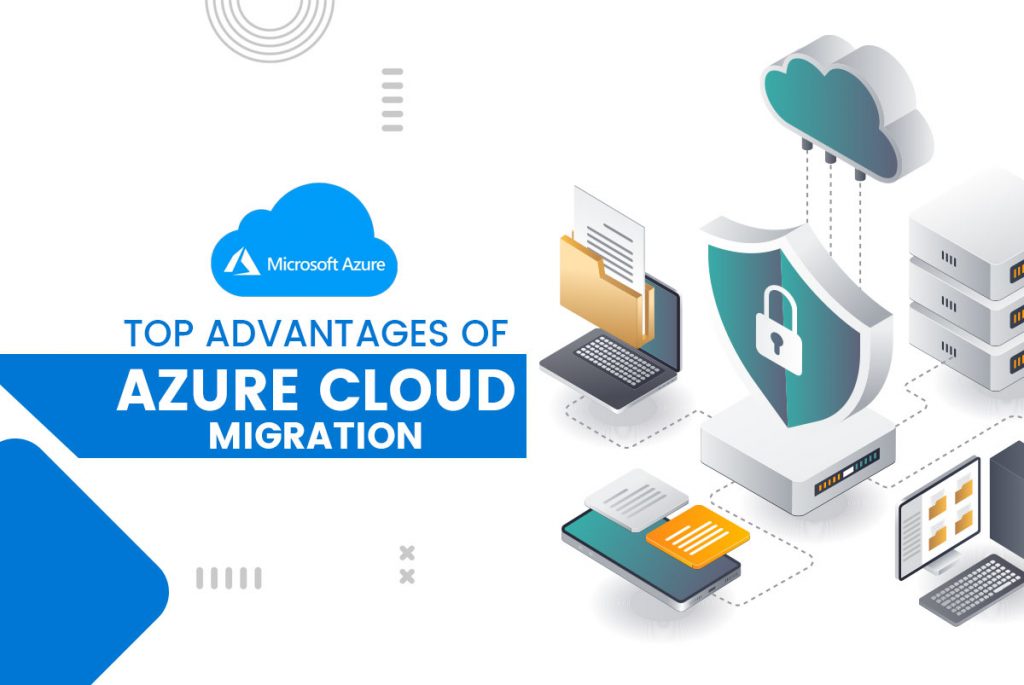 Currently, migrating to the cloud is a key part of a solid IT strategy. It helps with business continuity and facilitates a remote, hybrid, and paperless workplace. There are plenty of other reasons to move to the cloud. It can be ground-breaking, even for a small company. If you're looking to adopt Microsoft Azure for your cloud infrastructure, Azure migration services might be of help. More on that later.
Benefits of cloud computing for your business
A company can prevent many issues and enjoy plenty of benefits by adopting cloud computing. The major benefits include,
High-speed development and deployment
Software updates and integration can be automatic
Increased efficiency
Reduced cost
Data security
Scalability
Facilitates collaboration across teams
Unlimited storage
Recoveries and rollbacks are easy
Faster recovery from disasters
Better mobile access
Data loss prevention
Better control over sensitive data
A competitive edge against other businesses
With the adoption of cloud computing increasing every day, Microsoft Azure cloud migration can be the life-changing decision your business needs.
Benefits of Azure Cloud Migration
Overall Best in Class
When it comes to cloud migrations, Azure is the best. It offers a combination of IaaS (Infrastructure as a Service) and Paas (Platform as a Service). Microsoft has spent billions on development and approximately $1 billion in security to keep customer data safe from cyber threats.
Microsoft Azure provides great performance, controls, scalability, and services for companies of all sizes. Such reliability instill confidence in IT functions. In addition, the Azure cloud support is the best in the industry.
Top-Notch Security
With Azure cloud, Microsoft guarantees the best protection and security for the data. In addition, Microsoft's security model meets international standards such as HIPAA and ISO 27001. The company improves Azure's security every day. Azure also meets the standards of countries like the UK (G-Cloud) and Australia (IRAP).
Because of its secure nature, it is the most trusted cloud platform that even US government institutions use. In addition, Azure is the first cloud service provider in the world to embrace the latest international cloud privacy standard, ISO-27018.
Here's everything else that makes Azure secure,
Multi-level protection
Multiple compliance certifications
Cybersecurity controls
Azure's threat mitigation practices
Smooth Business Continuity Management
Azure cloud migration can help keep your business running even when faced with extremely uneventful moments. This is one of the key reasons to adopt the cloud. Azure migration proved helpful during natural disasters, pandemics, etc.
Cloud services like Azure provide you with continuous availability and reliable support. Azure services are online, always offsite, and it's always on. It provides automatic backups, and the data centers provide top-notch security.
Helps Run a Digital Business
Azure and Microsoft 365 can help you build a secure modern digital workplace. It empowers employees with new methods of working, allowing them to work from anywhere worldwide. This combination provides top-notch collaboration, communication, and transformation.
In addition, Microsoft is constantly developing and improving Azure to meet the needs of its clients. It works on future-proofing the platform, so you don't have to worry about it. This is a key reason you should opt for Microsoft Azure cloud migration.
Array Of Tools
You get a variety of tools along with Azure. Some of them include Azure readiness analysis, app modernization, cost estimation, agentless datacentres discovery, app dependency visualization, etc. You can always choose from a host of other integrated partner tools if you need more capabilities.
Integrating applications to your Azure Active Directory is simpl too. You can visit the Microsoft site for assistance in integrating popular apps like ServiceNow, Salesforce, AWS, etc. If the required application is not available in the Azure AD gallery, you can add it to the gallery manually. This includes applications you develop in-house too.
Cost-Effective
Cloud migration comes with its cost. With Azure migration, you can reduce infrastructure costs to a great extent. Especially, small companies can get the benefits of high-tech features like analytics, a cloud platform, and related services at a fraction of the cost.
Azure offers you price matching with comparable services. It also provides substantial savings compared to other CSPs. In addition, you pay only for the services and resources you use, making Azure extremely cost-effective.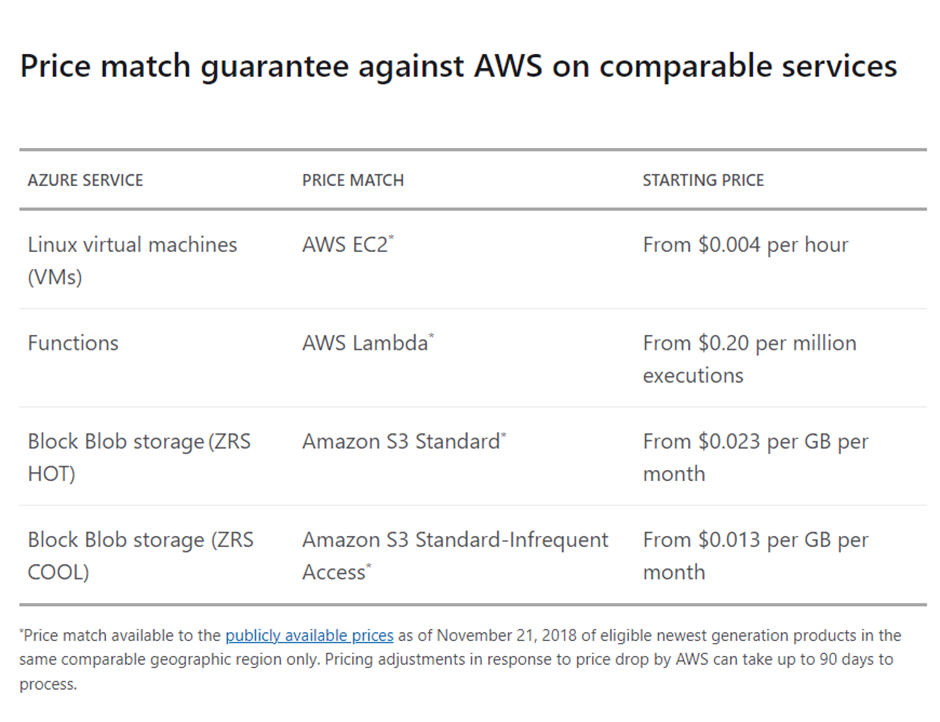 Source: https://azure.microsoft.com/en-in/pricing/
Advanced Services
Azure includes numerous advanced frameworks and services to help your organization make the best of a digital workplace, including AI-driven solutions. The list of services Azure offers only keeps growing. Some of those services include advanced options like,
Translation
Natural language understanding
Big data processing
Facial recognition
Making API calls with Azure is so easy that even low-code and no-code solutions can do it seamlessly.
Robust Analytics
Azure cloud migration allows your organization to benefit from robust data transformation and analytics solutions. These tools can provide you with plenty of flexibility and cater to various needs.
Azure offers the following,
Azure Synapse Analytics (next generation Azure SQL Data Warehouse)
Azure Databricks (Apache Spark-based analytical service tool)
Azure Data Factory (Extract Transform Load service)
Azure Stream Analytics (real-time analytics)
Data Lake Analytics (on-demand analytics job service)
Azure Analysis Services
Azure Migration Services- Choosing the Right Provider
Azure migration services can help your organization take your work online. You will have to pick an azure migration service provider experienced enough to handle the process from start to finish. The service provider will have to plan the Azure cloud migration process considering all aspects of your business. And the provider will have to prepare and adapt their process to suit your needs.
Your partner's responsibilities do not stop when the migration is done. They'll have to secure and manage the infrastructure and then optimize the costs by picking only the subscriptions you need.
The Azure cloud migration process can be a daunting task to undertake on your own. To make the process easy and seamless, we can help you with the process.
Why Choose Us for Azure Cloud Migration?
As a Microsoft Certified Partner, we get early access to new product features. We are an Azure cloud migration service with a decade of experience in helping clients with their Azure cloud migration process in each step. Our expert team can explain the setup to you in detail and walk you through the same.
In addition, we have a direct channel of communication with Microsoft, allowing us to provide better services and Azure cloud support to you.
We have an expert team of certified professionals who can complete the entire migration process for you. We can also assure you that you won't pay a penny for features that you don't need. Over the years, we have helped thousands of clients successfully move to the cloud. Get in touch with us to learn more.
Who We Are and What Makes Us an Expert?
This article is brought to you by Flatworld Edge, a pioneer technology company specializing in a range of services including Azure Cloud Services. Get in touch with us now to know more about our services.