In a world as competitive as ours, industries are characterized by gnawing rivalries, and businesses are ready to go to any extent to outrun their competitors.  In their attempt to lead the market, organizations have realized that there's no substitute for business intelligence solutions. Leading BI tools, such as Power BI, are being leveraged more than ever today to catapult businesses to the next level by harnessing huge stacks of business data that otherwise remain used.
Today, Power BI is offered in 43 languages and deployed in 40 global datacenters. Over 200,000 customers use Power BI and bring 40 petabytes of data to it every month.
Why Power BI is a Success Enabler for Businesses

PowerBI can be utilized to create compelling data visualizations for data-driven decision making in your organization. Here's why you need to leverage Power BI.
Connecting different data sets with ease
PowerBI provides various built-in connectors for different data sets. This helps in loading required data sets from various cloud-based sources quickly, link them and build reports. PowerBI dashboards ease and enhance the process of reporting and analysis.
Robust data governance and amplified data security features
Power BI offers detailed security controls like role-based authentication, row-level security, risk mitigation and cloud-based security provisions. With the help of features like row-level security, you can provide users access to data that is relevant to them. The service leverages the user authentication features offered by Azure Active Directory (AAD) with Single Sign-On (SSO) process with Power BI login credentials for data access.
Utilizing Natural Language Queries to seek answers from your data
The Q&A feature in PowerBI allows users to explore and perform data searches using natural language. You can refine or expand data searches to uncover new information through data visualizations. Using autocomplete, it also lists meaningful queries that mirror general business queries to provide immediate feedback and results. PowerBI users can also leverage the benefits of voice recognition to generate actionable insights.
Smoothens the Bumpy Data Ride
Managing and analyzing oceans of data without any machine assistance is perhaps the worst nightmare of business leaders. The sheer time and effort it takes to source, sort, study, and store the never-ending streams of data is simply a resource-draining task. Also, the human brain, unlike Power BI, cannot infer the plethora of scenarios and conclusions that a single dataset can deliver.
Power BI is used by over 97 percent of Fortune 500 companies.
Power BI enables the transformation of data into interactive reports, facilitating easy and quick sharing. Near real-time reports help managers to monitor critical processes on the go.
Any intended user, be it business partners, employees, or vendors, can access the reports using their smartphone at any time, and hence, act on it promptly.
Power BI can connect to over 70 cloud and on-premises data sources to turn data into interactive visuals.
Rescue the Failing Performance Management
For businesses, tracking the market performance of their past offerings, alongside the current ones, is critical. At times, even the most-promising effort fails to deliver despite all desperate measures. Poor performance management could be the primary reason behind this. Such situations highlight the need for Power BI to evaluate the performance and identify the opportunities of the business.
Analyzing Data with Power BI

makes sense out of the seemingly no-value data and gives hidden insights to identify all possible bottlenecks, helping in fruitful decision-making.

Managers can build interactive Power BI dashboards to set individual goals and track their progress. It keeps the concerned people on their toes and pushes them to pursue their targets harder.
Prevents Old Data from Corrupting New Reports
While cloud storage has brought in an unprecedented level of convenience, it can be a source of grave concern in report generation. The point is that with cloud storage, there are chances of data or documents getting mislabeled, altered, and deleted accidentally. This could potentially lead to delayed and erroneous report generation, and there's no certainty that reports are based on the latest data.
Power BI connects to over 60 commonly used software solutions. A few of them are Spark, SAP, Hadoop, Google Analytics, and Salesforce.
Power BI can cut down on the possibility of reporting errors by generating reports that can be run in seconds using the most current data.
Power BI can be configured to prevent accidental alterations or deletion of reports, eliminating the time needed to sift through files to locate intended data.
The Perception that Custom Reporting is a Niche Job
For leaders with a non-technical background, generating sophisticated reports using a modern tool might seem overwhelming. The traditional, complicated tools that were used earlier for analyzing data and generating reports should be blamed for making it a terrible experience for users. Consequently, the current perception is that a technical BI solution can only be handled by experts and the in-house tech department.
Power BI is a user-friendly tool and requires no prior user training. The user manuals, guides, videos, and other resources on its website are enough for users to get started with the tool.
The solution is based on the founding platform of MS Excel and follows a similar approach to design reports. Data modeling is derived from the fundamentals of Microsoft SQL Server.
Mitigates the Threat of Unorganized Operations
A typical enterprise deals with varying data types and formats in its daily operations. For example, while sales figures can be represented in figures and graphs, financial data is usually presented in spreadsheets. Dealing with such widely varying data without any assistance can lead to a disorderly state of affairs, and critical pieces of information can get lost somewhere in the chaos.
With Power BI, users can develop a central location where all data is organized and stored. The Power BI storage includes users' datasets and Excel reports, and items shared by others.
Reporting uniformity makes it easy for all stakeholders to understand the reports, facilitating easy monitoring and analysis of key performance indicators.
What Makes Power BI Stand Out From the Rest?
The cloud-based Power BI, besides offering insightful data analytics and visualization capabilities, also packs a host of other tempting features. And while other data visualization and BI tools in the market brag about how they offer unique business benefits, Power BI keeps adding new names to its list of users owing to its distinct value-adds.
Seamless Integration with Microsoft Applications
Microsoft is the leader of the enterprise software race and there is hardly any organization that doesn't use MS Office or Windows to execute their operations. Power BI, being a Microsoft product, offers flawless integration with MS Excel, Word, Dynamics 365, and the like, so that data pulling and accessing isn't a concern any longer.
The solution even integrates easily with non-Microsoft business environments, providing equally detailed and insightful analytics and reporting capabilities. Azure Analytics integrated with Power BI provides insights at scale, helping businesses to foster a data-driven work culture.
As Versatile As Any Other Microsoft Application
Power BI has been designed to handle heavy-duty data onslaughts. Its data modeling engine is a columnar database and uses tabular database technologies to ensure accurate loading into the tool memory. This allows the tool to handle tables in excess of 100 million records with ease, unlike even Microsoft Excel.
A few of the databases supported by Power BI are Azure Analysis Services, Excel, Microsoft SQL Server, Amazon Redshift, Google Analytics, Google BigQuery, Azure SQL Database, Microsoft Dynamics CRM, MySQL, SharePoint Lists, Oracle, and Salesforce.
To ensure that the data being used is always updated, Power BI uses automated, incremental refreshes, which also streamline visual reporting for end-users. Being a cloud-based tool, Power BI eliminates all forms of memory and speed constraints.
Unprecedented Out-of-the-box features
The Quick Insights of Power BI makes is a winning feature. It provides an intuitive way to search hidden business insights from different subsets of data by applying advanced algorithms. The 'Ask a question' feature allows users to add a 'question' button within a report, which enables them to execute random analysis while developing or reading reports.
Integration with Azure Machine Learning allows users to visualize the results of ML algorithms in the easiest way just by dragging, dropping, and connecting data modules. The R connector facilitates the running of R scripts, allowing the resulting data sets to be imported into a Power BI data model.
Time series forecasting, a machine learning technique, involves the collection of data at regular intervals (hours, days, months, years, etc.). It is applied to analyze data and time sequence to predict future events.

Power BI offers two versions of exponential smoothing, one each for non-seasonal data (ETS AAN) and seasonal data (ETS AAA). Power BI automatically uses the correct model when the user triggers a forecast for their line chart, as per historical data analysis.
Unbeatable Custom, Open-sources Visuals
Power BI offers a rich selection of pre-packed data visualization options to choose from, which can be used in reporting elements such as bars, columns, charts, and others. These standard features have multiple customization options for improved presentation and functionality. The Power BI community also hosts a wide array of custom visuals that can be used free of charge.
Users get access to custom Power BI visualization files in the Power BI community as well as the Microsoft repository in the AppSource marketplace. Using Power BI visuals created with Microsoft's SDK, users can import data from, or send data to a third party or other services.
Proven Data Governance and Security Measures
Considering the growing incidents of data fraud and mishandling, Power BI assures its users the best possible digital data security. For added convenience, users can access and manage the security features of their data and reports using the same interface, eliminating the need to use a multitude of tools for different functionalities.
Power BI also offers the option of Azure Active Directory (AAD), which is built-in for user authentication, allowing users to leverage Single Sign-On (SSO) access to their data. Microsoft ensures adherence to all regional and global security compliance and regulatory standards.
Handy Tips for Using Power BI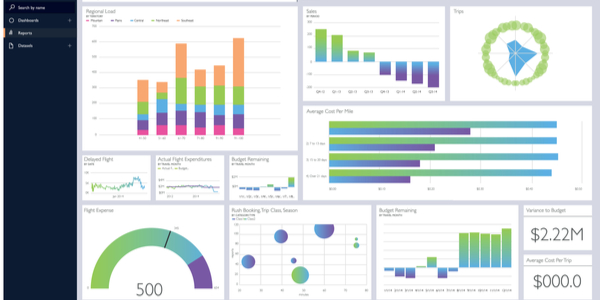 Considering the wide range of functionalities and possibilities that Power BI offers, new users can easily feel overwhelmed, wondering about the ideal starting point to visualize data. If handled right, Power BI can be used to visualize a lot more than just chart data; it can even be used for asking questions and exploring what-if scenarios.
Stories are Always Better than Numbers
If numbers are the only thing that must be presented, charts are the best option. But if the need is to depict information that changes over time, Power BI's Timeline Storyteller is hands down the best option.
To engage the audience better, users can present information in a linear format of date or time, or even opt for circles, grids, or custom shapes.
With a chronological list of events, it's easy to arrest the audience's attention and present the history of the business, its growth over the years, and anything where the sequence of events matters.
Tips while using the Power BI Timeline Storyteller Feature
       Understand the expectations of the stakeholders
       Focus on setting the context for the story
       Define the story lifecycle
       Map the story to the visual
       Work on a well-planned story delivery and walkthrough
Unearth Every Possibility with the 'What-if' parameter
Real-life scenarios are rarely black and white, but mostly always grey. Business leaders often have to analyze various possibilities of circumstances that have an impact on their business. For this, Power BI offers the feature of 'What-if' analysis as a data visualization option.
Users can insert variables in their calculations, which help them to effectively predict business outcomes, thus enabling prudent decision-making.
For a given set of data, userscan layer all possible scenarios in succession to see how things can change or impact their profitability.
Ask real-time questions
Besides the usual data visualization formats, Power BI comes with natural language capabilities that allow users to ask questions relevant to the data being analyzed and get visualizations as answers. Users can ask for total sales by region, month, etc., and determine the way information is presented.
Users can travel through their data and refine or expand their questions to seek hidden information using an interactive and fast interface.
The autocomplete feature helps users with relevant question statements and contextual suggestions to save time and enhance the experience.
Joining forces with the right Power BI services team can provide businesses with all the technical support they need to implement the solution. A competent service provider would plan a detailed implementation project, do the necessary heavy lifting, create API keys and plug-ins, and help the client with the necessary user training and support. Years of enhancements and upgrades by Microsoft have ensured that Power BI remains effective in boosting revenue, reducing operating expenses, minimizing risks, and saving time.
Power BI has helped reduce the operational hassles at the Heathrow Airport by serving as a central digitalized management system. The solution processes the large amounts of data from the operational systems at the airport and transforms it into useful visual insights for smooth operations.
Among the popular business intelligence tools used by global enterprises to discover actionable insights for smart, data-driven decisions, Power BI sits right on the top. With countless large, medium, and startup organizations already reaping rich dividends, it's just a question of when you will jump the bandwagon and transform the way your organization handles data.
Who We Are and Why Our Expertise Matters
FlatworldEDGE is an IT solutions firm that specializes in infrastructure management, software testing services, business intelligence solutions, and custom software development. Over the last decade, we have empowered businesses with the true power of data analytics and predictions. Our unique Power BI solutions have helped them make their daily operations much more efficient and data-driven, and less frustrating for employees. We offer a thorough health check of our clients' data setup and develop custom visualization solutions by following the industry best practices for optimized outcomes.