Businesses across the world are dependent on IT solutions to manage their day to operations. It helps them to maintain their competitive edge. But how do they ensure that their all-IT tools work seamlessly? The answer lies in IT Service Management. (ITSM).
ServiceNow ITSM is one of the most widely adapted ITSM solution in the industry. The ITSM Service Now tool benefits are many. It allows you handle incidents, respond to service requests, manage the issues that crop up and bring changes.
Be it government, healthcare organisations or retail companies ServiceNow ITSM has a lot of value to offer. It boosts operational efficiency, staff productivity and enables them to carry out their job better.
The 6 Most Important ITSM ServiceNow Tool Benefits
1. Greater Flexibility
One of the most important ITSM Service Now tool benefits is increased flexibility for the IT team. They can prioritize issues based on criticality and resolve them accordingly.
ServiceNow ITSM is a clous-based platform which the IT team can access from any place and any time. The flexibility to work remotely is important as it ensures that the IT team will be able to resolve the issues promptly.
2. Better Productivity
Of all the ITSM ServiceNow tools benefits, this is perhaps the most important one. Employee productivity increases as IT operations run seamlessly. Here's are a few ways that ServiceNow ITSM helps in doing so:
Minimizing the recovery time in case of a service outage
Facilitating team collaboration.
Real-time availability of information makes way for prompt service delivery.
Automation of routing work though AI and ML technologies.
It lowers the average incident response time.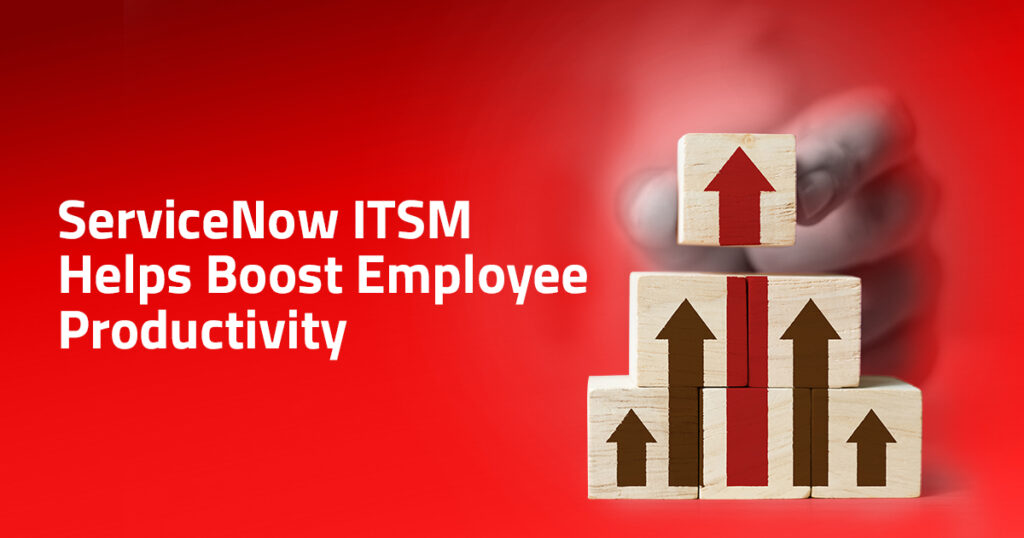 3. Lower Costs
The ITSM ServiceNow tool benefits for a business organisation include a significant reduction in costs. This is because with the implementation ServiceNow automates workflows. This means businesses have to no longer rely on human workers to respond to requests.Also, automation makes its possible for businesses to get the same amount of work done with lesser human resources. This saves a lot of money, as the cost related to salaries, benefits, HR of employees come down.
4. Enhanced Customer Satisfaction
This is one of your major ServiceNow ITSM tool benefits. Your customer will be happier with your service as they have access to the status of their query in real-time. Also, as the whole process is automated, the technical expert is able to resolve the issue quicker. This diminished time-to-resolution results in improves customer satisfaction.Your customers will also feel more satisfied with minimal disruptions to your daily operations due to service outages.
5. Better Scalability
Every organisation whether big or small, has faced a scalability problem at some point of time. This is why this ITSM ServiceNow tool benefit is very important.  Fluctuations in the demand for a organisation's product or services are a norm, the management should be thus able to increase or decrease their resources accordingly.ServiceNow ITSM is a cloud-based solution and makes scalability really easy. It facilitates the addition or subtraction of IT resources at will.
6. Improved Adaptability
Businesses have to continually adapt themselves to changing situations brought about due to changes in market conditions, customer expectations etc. The faster they adapt the better the performance of their business.One of the prime ITSM ServiceNow tool benefits its that it enables businesses to easily adapt changes and constantly innovate. The platform is one of the comprehensive tools we have. If your business is growing rapidly, the ServiceNow ITSM tools has ability to change and grow accordingly.
How We Assist You in Obtaining Maximum ISTM ServiceNow Tool Benefits
We help companies of all sizes adopt ServiceNow ITSM in their organisation. Our services exceptional as we guarantee timely delivery of ServiceNow services. The clients we work with are sure to be impressed with our experts who are ever ready to answer any query or implement a suggestion.As one of the most trusted provider of ServiceNow ITSM services, we guarantee 100% data security to our client.  Our security standards are the best in the industry, and we take immense pride in saying that we are compliant with all national and international laws.  We have in place, the strongest encryption methods for storage and transitions.
To make sure that the implementation of ServiceNow is smooth, we have in place a very well-defined and structured process. Further, we have teams of experienced professionals who make sure that you make the most out of your investment.
As an ISO 270001 certified organisation, we assure you that our services are to-notch. Our stringent QA process ensures that we deliver nothing but our best.
Who We Are and Why Are We Considered as Industry Experts?
This article is penned down by the writers at Flatworld Edge. We have several years of experience in assisting companies leverage ServiceNow. Apart from ServiceNow services, our companies also provides services in Cross Platform App Development, Microsoft Office 365 Migration, Microsoft Azure Cloud Support, and Power BI Solutions.